Blog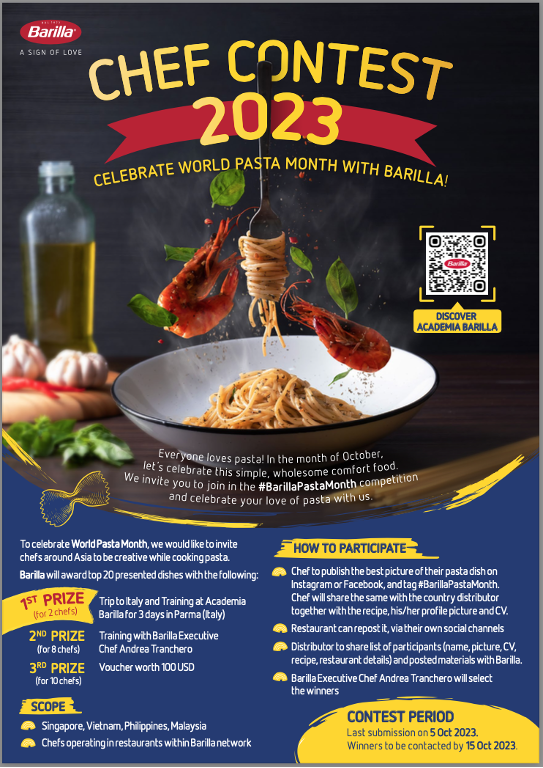 Barilla and Marriott Join Forces for World Pasta Day: Crafting Nutritious Pasta Dish to Feed Street Kids
Barilla, the world's leading pasta brand, is teaming up with Marriott Hotel to host an extraordinary event in celebration of World Pasta Day. This event aims to create the largest nutritious pasta dish and donate it to the street children of Red Cross Philippines, showcasing the impact that collaboration and compassion can have on our communities.
Event Details: Date: [Oct 25, 2023] Venue: Marriott Hotel
This collaborative initiative between Barilla and Marriott Hotel is a testament to the power of industry leaders coming together to make a difference, all made possible with the support of Werdenberg International Corporation and Santis Delicatessen, the leading deli shop in the Philippines.
"Our mission is clear- to ensure that every Filipino has access to good, nutritious food. It's not just a responsibility; it's a shared vision. Together, we can make a difference that truly matters." said Mr. Werner Berger, President and CEO of Santis Delicatessen.
Renowned chefs from Marriott Hotel and Barilla will join forces to prepare this giant pasta dish, showcasing their culinary expertise while emphasizing the importance of nutritious and wholesome food for children.
Beyond the event, Barilla and Marriott aim to inspire others to take action in their own communities. This collaboration sets an example of what can be achieved when industry leaders come together for a common cause.
Chef Andrea Tranchero, Executive Chef of Barilla, expressed his enthusiasm for this initiative, saying, "Barilla is proud to be part of this collaboration with Marriott. A project that aligns with our commitment to nourishing lives and fostering a better future. We believe that nutritious food should be accessible to everyone, and this event is a step toward achieving that goal."
Chef Meik Brammer, Executive Chef of Marriott added, "Marriott is honored to collaborate with Barilla for the World Pasta Day. We are passionate about giving back to the communities we serve, and this event exemplifies our dedication to making a positive impact."
Barilla is also organizing a chef contest where chefs around Asia can introduce their very own pasta dish and the winner will have the opportunity to explore Italy and have an exclusive training with the Barilla team for 3 days. The deadline for the submission will be on October 5, 2023 (regulation at: http://wpm2023.barillagroup.com/). For media inquiries, interviews, or event information, please contact: Ms. Alexandra Gozum, PR & Marketing Manager of Santis Delicatessen. santislover@santis-deli.com / alex@alexandragozum.com | +63 916 315 6865