Blog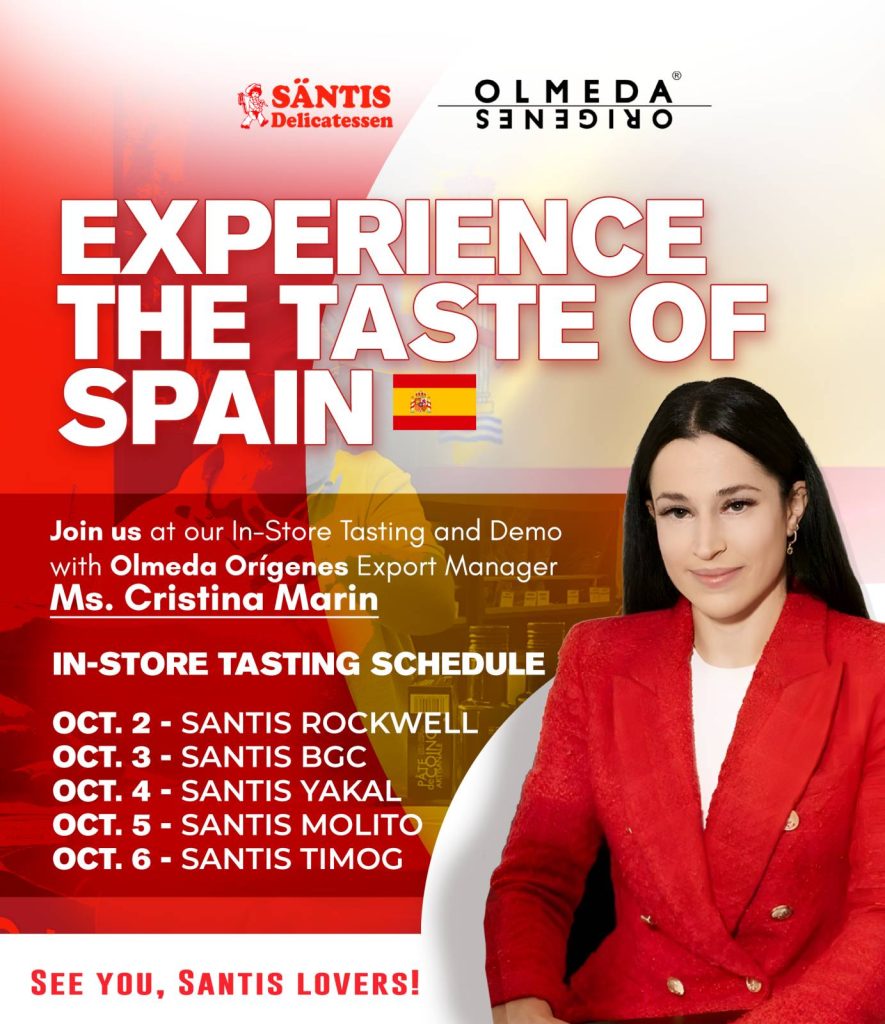 Säntis Delicatessen Invites You to Savor the Flavors of Spain with Olmeda Origenes In-Store Tasting Event
Santis Delicatessen, the leading deli shop in the Philippines and home of gourmet delights, is thrilled to invite all connoisseurs of fine cuisine to an in-store food tasting event featuring the exquisite Olmeda Origenes Spanish products. This event promises to transport your taste buds on a flavorful journey through the heart of Spain's culinary traditions.
Santis Delicatessen has been known for its commitment to offering the finest, most authentic gourmet products from around the world. Now, they are proud to present Olmeda Origenes, a renowned purveyor of premium Spanish goods, to bring a taste of Spain to your doorstep.
The food tasting event will take place from October 2-6, 2023 at the following branches; Rockwell, BGC, Yakal, Molito, and Timog. Customers and food enthusiasts alike are invited to explore an enticing array of Olmeda Origenes Spanish products, including premium olives, cheeses, delectable cured meats, and much more.
The event will not only provide an opportunity to savor the rich flavors of Spain but also learn about the heritage, craftsmanship, and unique qualities of each product. Santis Delicatessen's team and Export Manager from Olmeda Origenes, Crisitina Marin will be on hand to guide visitors through the tasting experience, offering insights and pairing suggestions to enhance your culinary journey.
"We are thrilled to collaborate with Olmeda Origenes to bring a true Spanish culinary experience to our valued customers. It has always been our goal to bring the different flavors of the world here in the Philippines." said Werner Berger, President & CEO of Santis Delicatessen."
This in-store tasting event is a celebration of their exceptional Spanish products. It is a chance for our customers to savor the authentic tastes of Spain without leaving our store.
Don't miss this opportunity to indulge in the finest Spanish products brought to you by Santis Delicatessen!
Learn more about our world class gourmet products from all over the world by visiting our website at www.santis-deli.com.
Be updated and informed about our latest promos, product features, and events by liking us on facebook at www.facebook.com/SantisDelicatessen.